A training kit for every need
Build your own training From Science to Sales
The trainings are structured into 6 different modules that can be booked as a broad training for beginners or individually for an in depth training of certain areas.
The advantages of a modular training are quite obvious:
Clarity – what you see is what you get
Relevance – Choose exactly the training you need
Flexibility – Mix basic modules and advanced modules based on your specific situation
Here is an overview of the different modules that are available.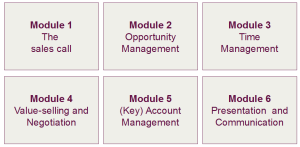 Basic sales training
The basic sales training provides new sales people with the most important skills required for their daily job and covers the basics of all six modules, focusing on the essential elements of sales.
Advanced training
The advanced trainings are intended for sales people who are looking to improve their skills in certain areas, e.g. forecasting, negotiation, etc., or want to specialize in an area, e.g. key account management. These trainings usually focus on just one or two modules but contain much more detail and depth than the basic training.
Customized training
My philosophy is to tailor all of my trainings to the specific demands and needs of my customers. I aim to understand the situation your company or sales organization is currently facing before agreeing on a detailed training plan. Choose topics from any of the modules you would like to be covered and the time you want to invest to ensure that training goals are met.